I've been living in Bangkok for almost a year now. This city happens to be the home of the restaurant voted the best in Asia for three years in a row. There's an episode of Chef's Table on Netflix about it. I'm talking about the Progressive Indian restaurant named after its head chef, Gaggan. I finally decided to check it out. I've been to a few fine dining establishments including a couple Michelin Star restaurants but this experience was pretty unique. Starting with the menu. Here it is: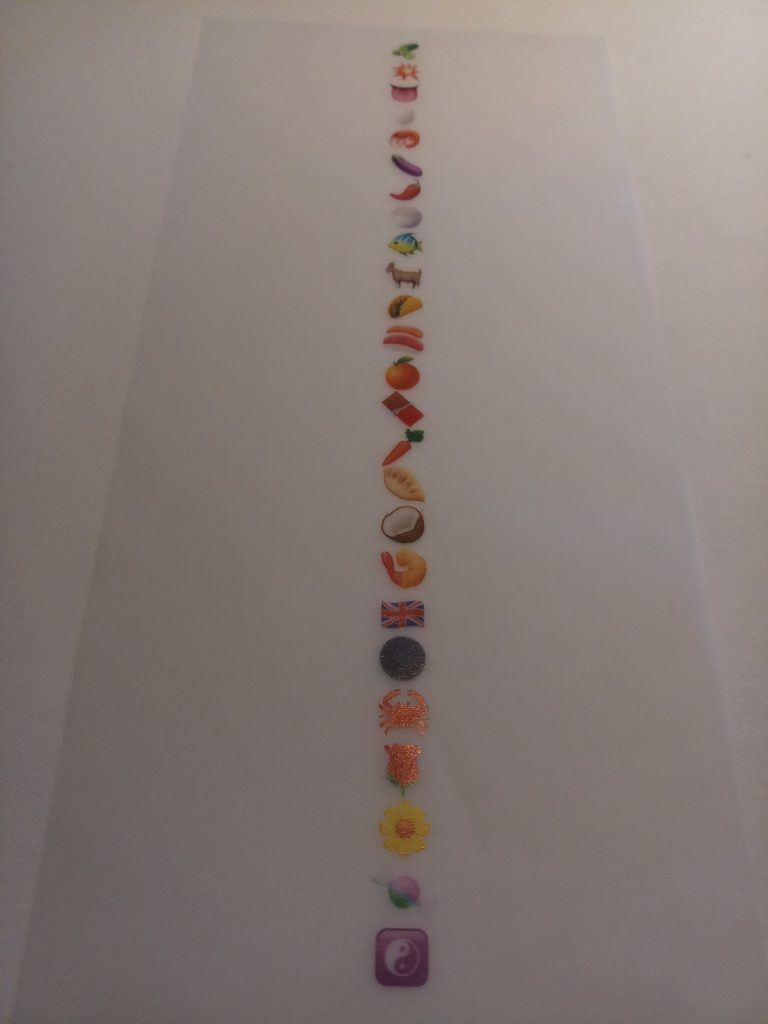 Yep, just a list of 25 emojis, each representing one course. If you're wanting to check it out for yourself and you don't want any spoilers, you may want to stop reading here. However, the menu does change every few months so if you do go, most of these dishes will probably have changed.
1. Cucumber Aloe Vera 🥒
A cool, refreshing drink to start off the evening. Meant to be downed in one shot.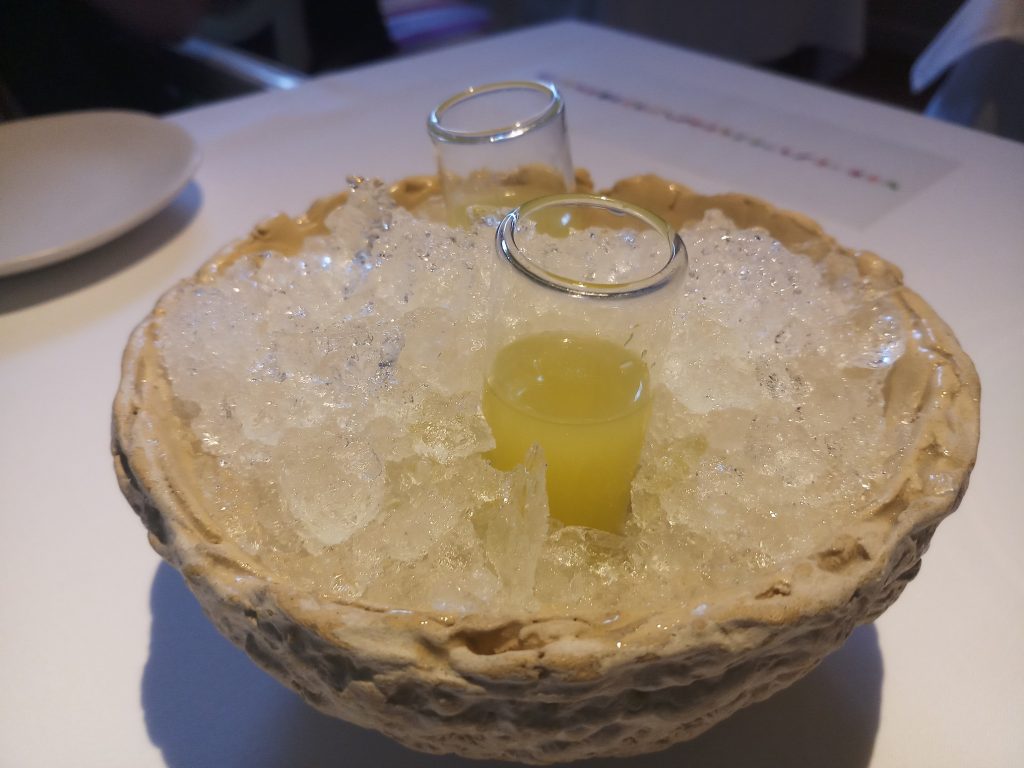 2. Yogurt Explosion 💥
The second course is similar to spherified olives made famous at El Bulli (where Gaggan worked at one point). You can slurp it up all at once and you don't taste much until you bite into the thin membrane and get a taste of the yogurt flavor all at once.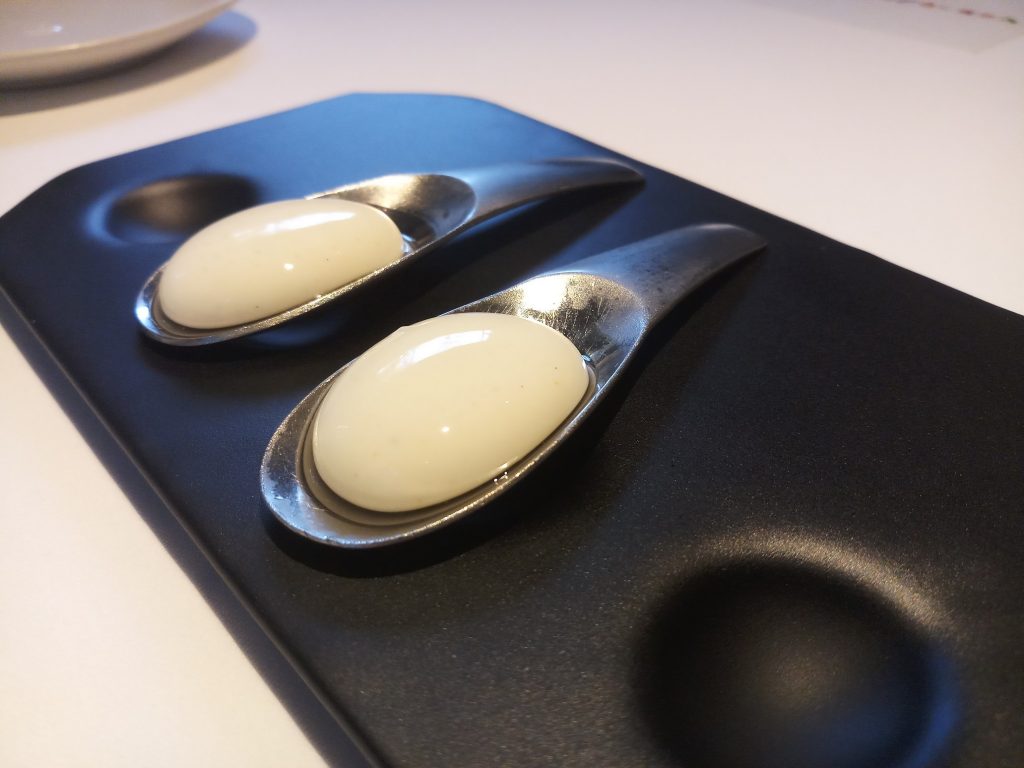 3. Lick It Up! Brain Curry 👅
Next up is an incredibly fun dish. Before the food is presented an mp3 player with a portable speaker playing Kiss's song Lick it Up is brought to the table which seems to not-so-subtly give you instructions for how to consume the food on your plate (no silverware provided).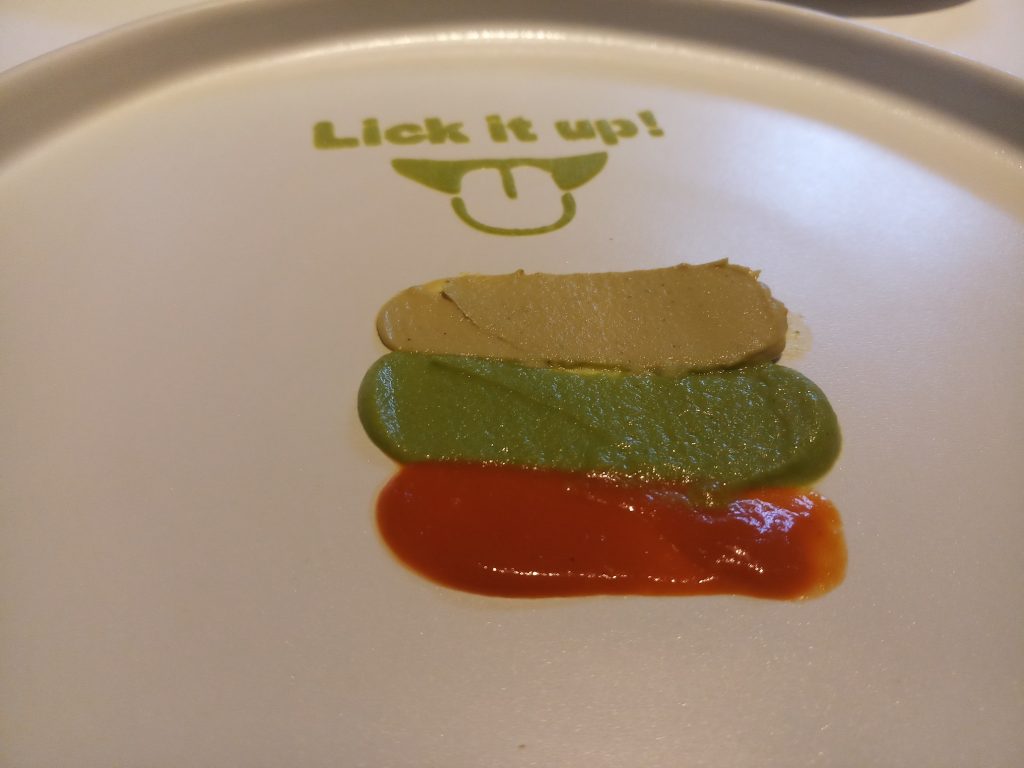 4. Caviar Horse Radish Egg 🥚
After the fun of the last dish, you're given another one-bite morsel to keep the rapid pace of the meal going.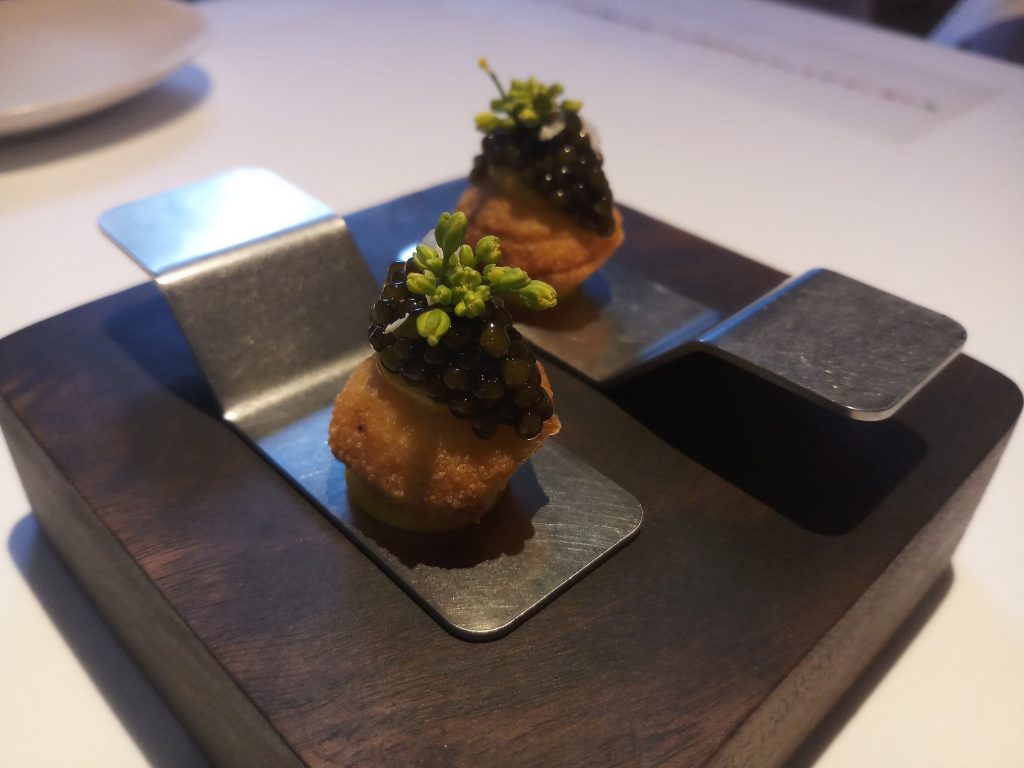 5. Tom Yum Kung 🦐
When my kids visited Thailand, one complaint they had was that the food was too spicy here. At one point they requested ice cream and I teased them, warning them that the ice cream might be spicy as well. Well, this dish is proof that yes, you can get spicy ice cream in Thailand. All the great flavor of Tom Yum in the cold form of ice cream wrapped up in rice paper and served in a deep fried prawn head. My dining partner was allergic to seafood so this is can easily be modified by not coming with the last part.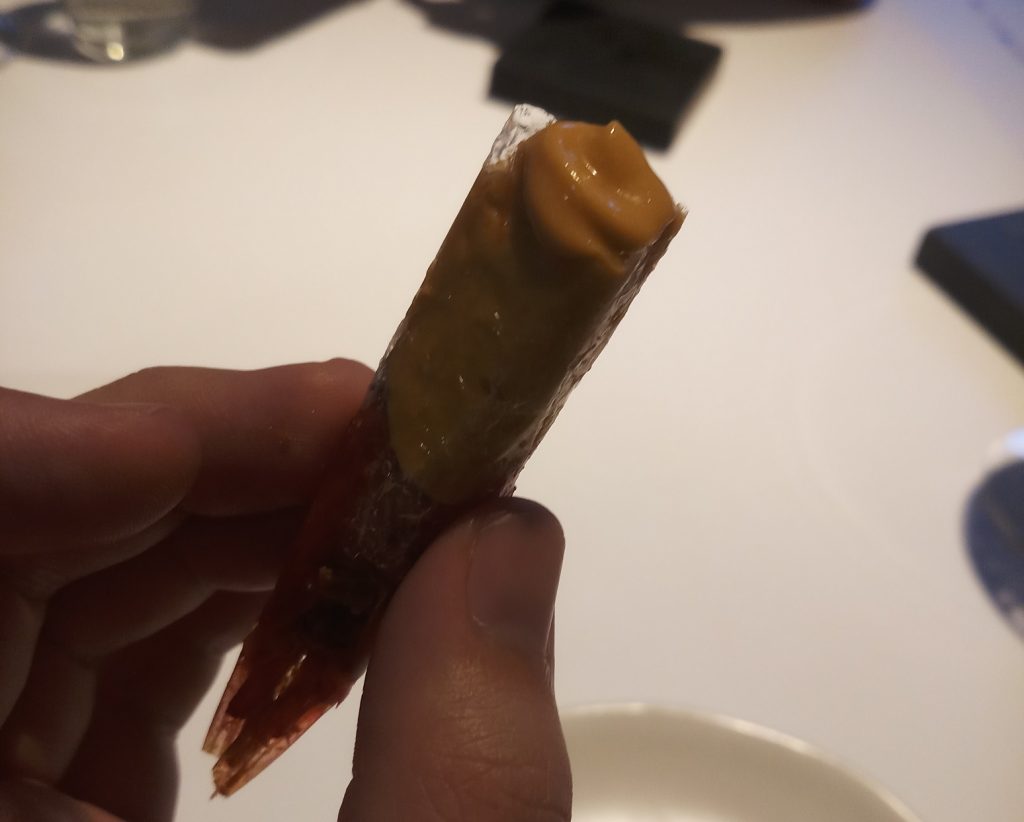 6. Eggplant Cookie 🍆
Another quick hit of deliciousness. The last dish was something normally served piping hot but made frozen. This one is a vegetable turned sweet treat.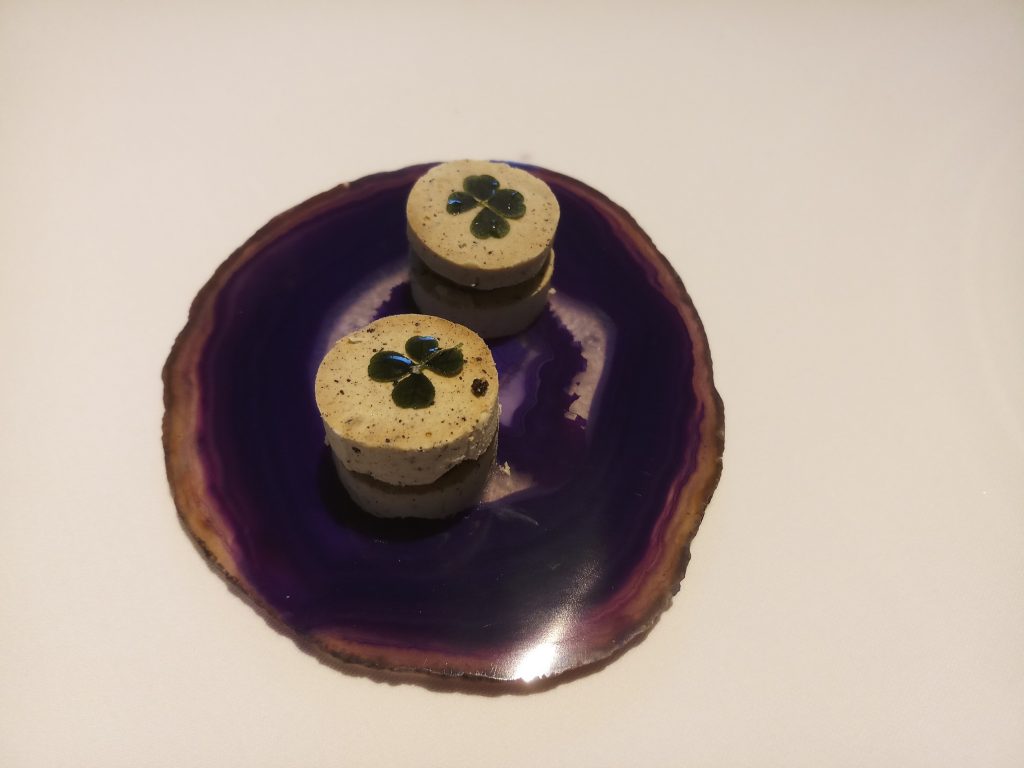 7. Chilly Bon Bon 🌶️
One of my favorites of the night. This thin shell of white chocolate comes loaded with a liquid chili sauce. Sounds weird but it was excellent. Really, that description could be applied to many of the dishes.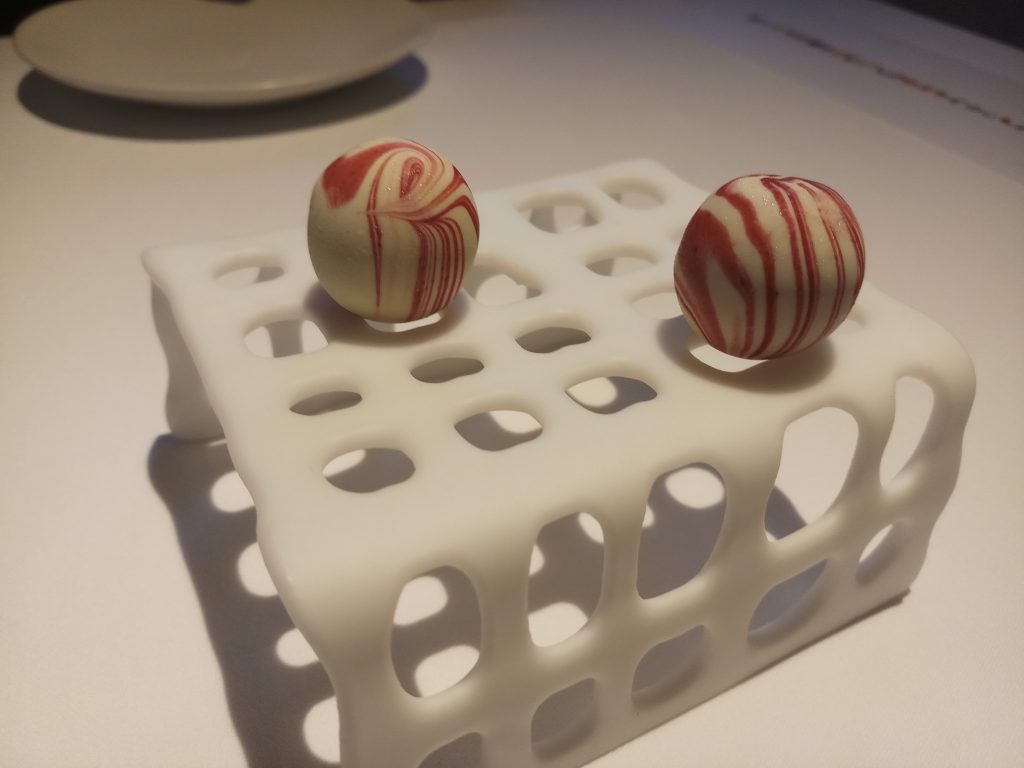 8. Idly Sambar 🍚
Here we get some foam: another staple of modern, progressive cuisine. Had a nice nutty flavor to round out the sweet spiciness of the Bon Bon from before.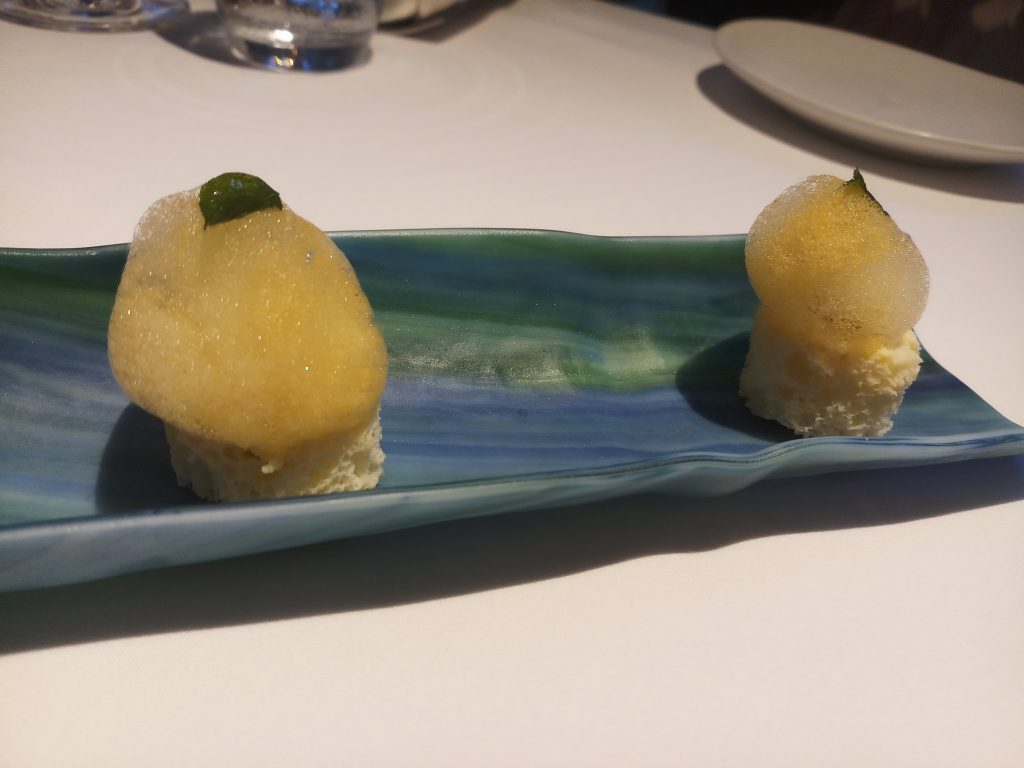 9. Yum Pla Duk Foo 🐠
Another Thai dish spun on its head. Pla Duk (ปลาดุก) is catfish. This one came wrapped in a sheet of onion paper which had a great texture and taste. It even came with some nuts which are always great but we had to resist eating them all so we didn't fill ourselves up. Still over twenty courses to go!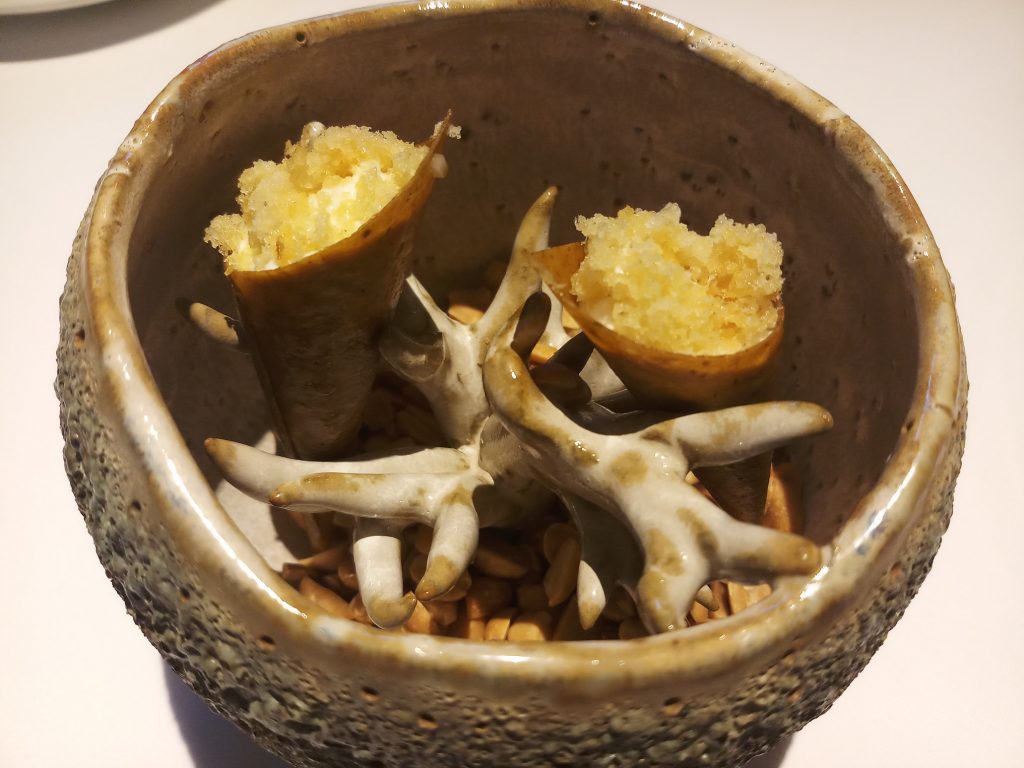 10. Keema Pao 🐐
The emoji's a goat but inside this was lamb, they begged our pardon for the mismatch but the great, savory taste made me forget all about the switcheroo they pulled.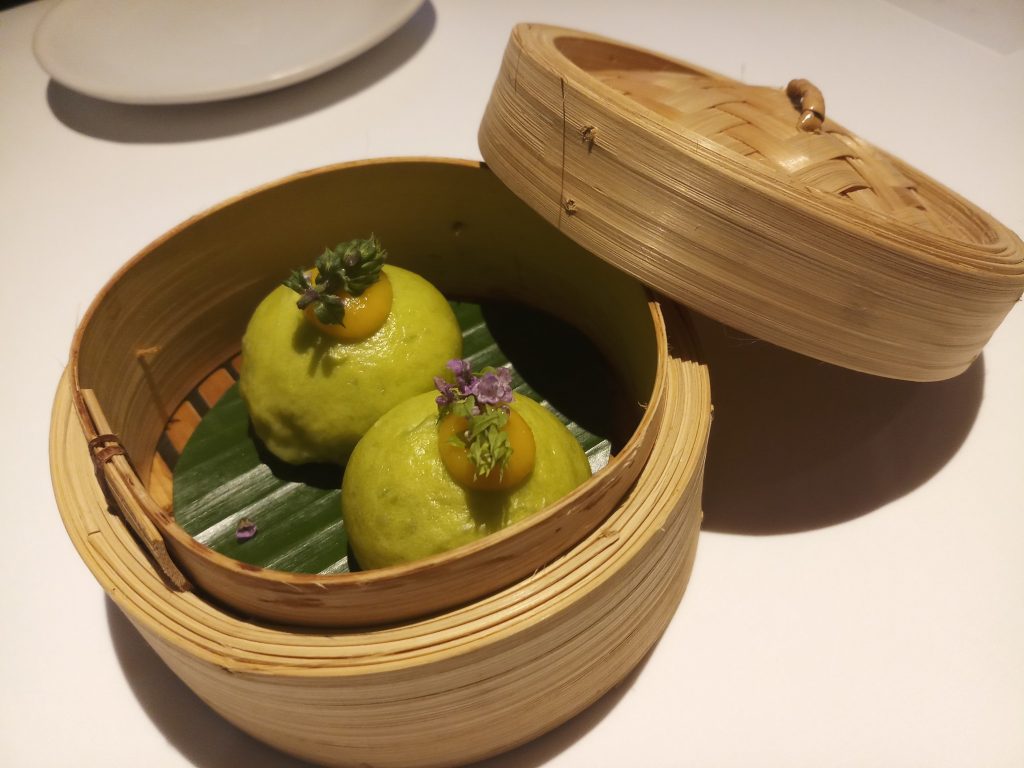 11. Turnip Uni Taco 🌮
Next up was a bite-sized taco made of turnip served atop the shell of a sea urchin. The waiter made sure to warn me against eating the spikes below.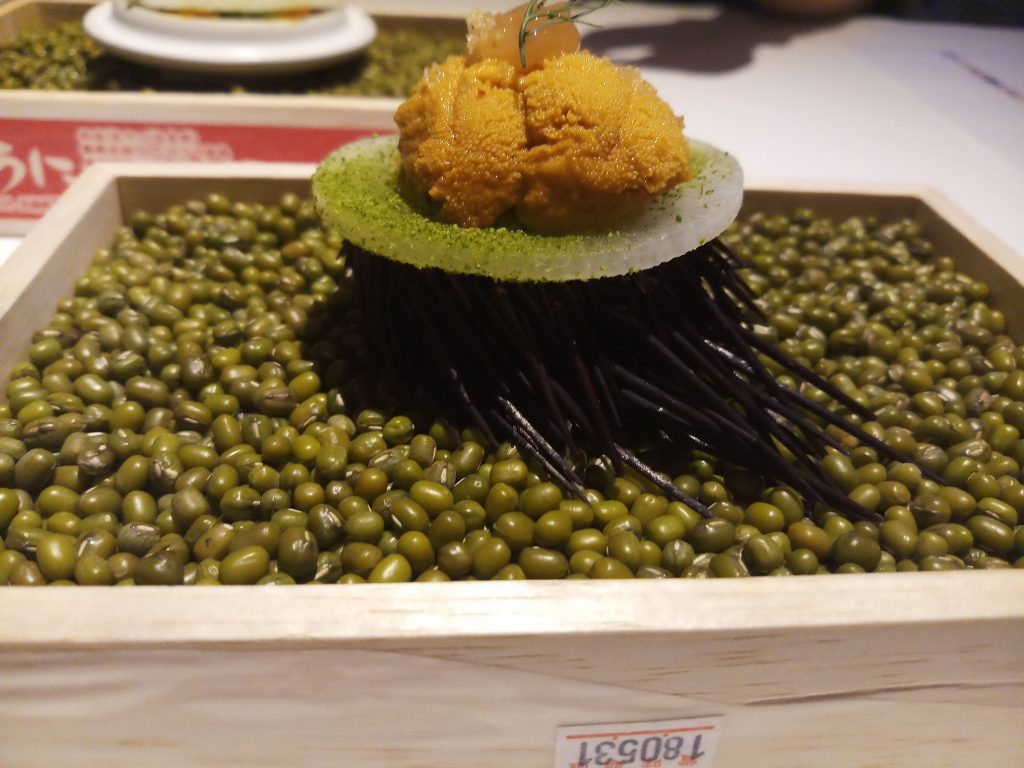 However, there was more to eat inside the shell lurking beneath the taco.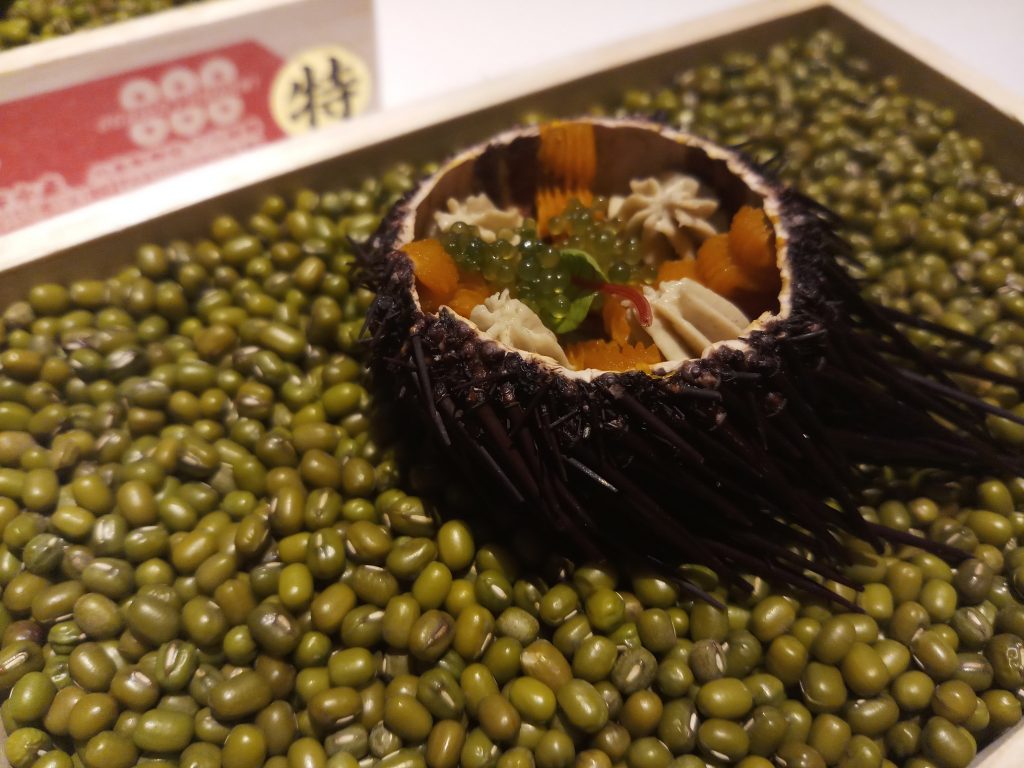 12. Churtoro Sushi 🍣
Gaggan plans to close its doors in the next couple years as the chef will head out for his next culinary adventure in Japan. So, it only makes sense that he'd be experimenting with some sushi. Here, instead of served on rice, we have the raw fish on a meringue.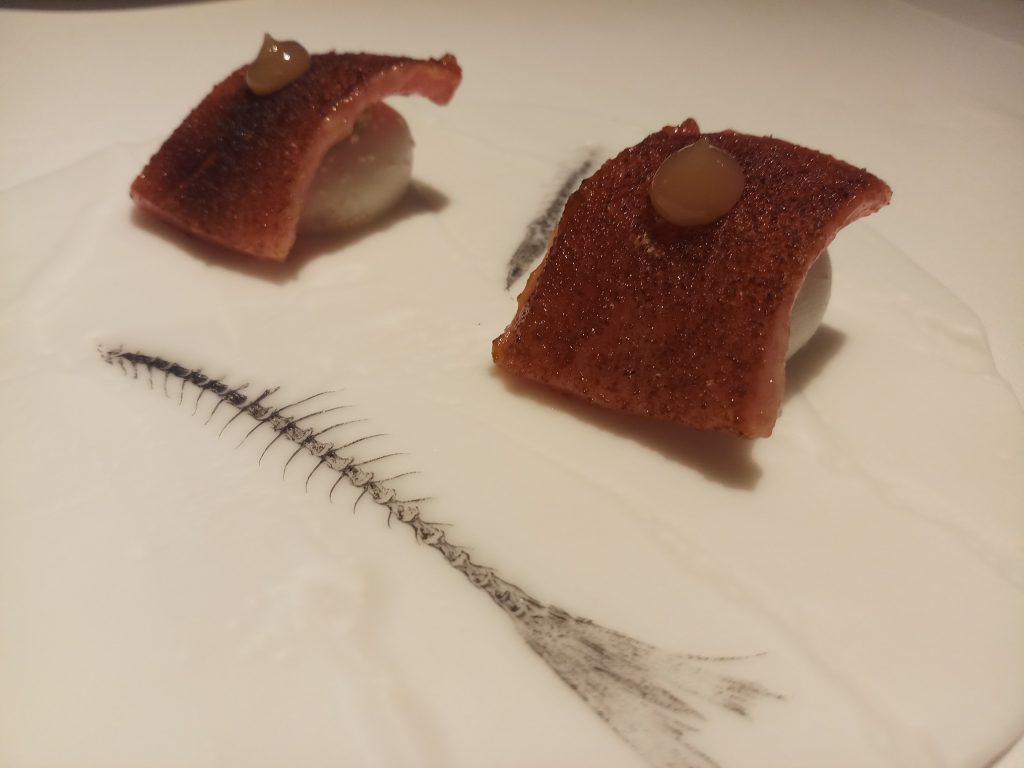 13. Foie Gras Yuzu Ghewar 🍊
This was the first dish where we were asked to guess about the ingredients. The citrus flavor came from an orange/lemon gel and interestingly mixed with the larger portions of goose liver pâté.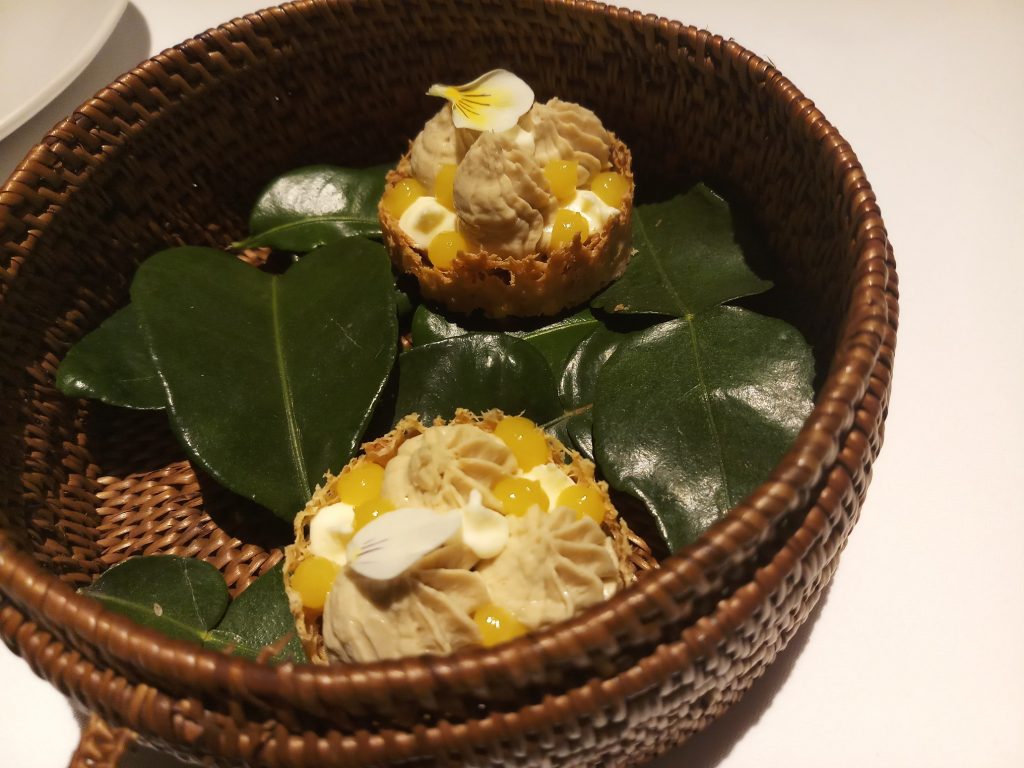 14. Anago Mole 🍫
Another guessing game. Living in Thailand, it was pretty easy to tell the inside was sticky rice but also from being from near the American South and seeing the chocolate emoji, I was also able to identify the mole rather easily.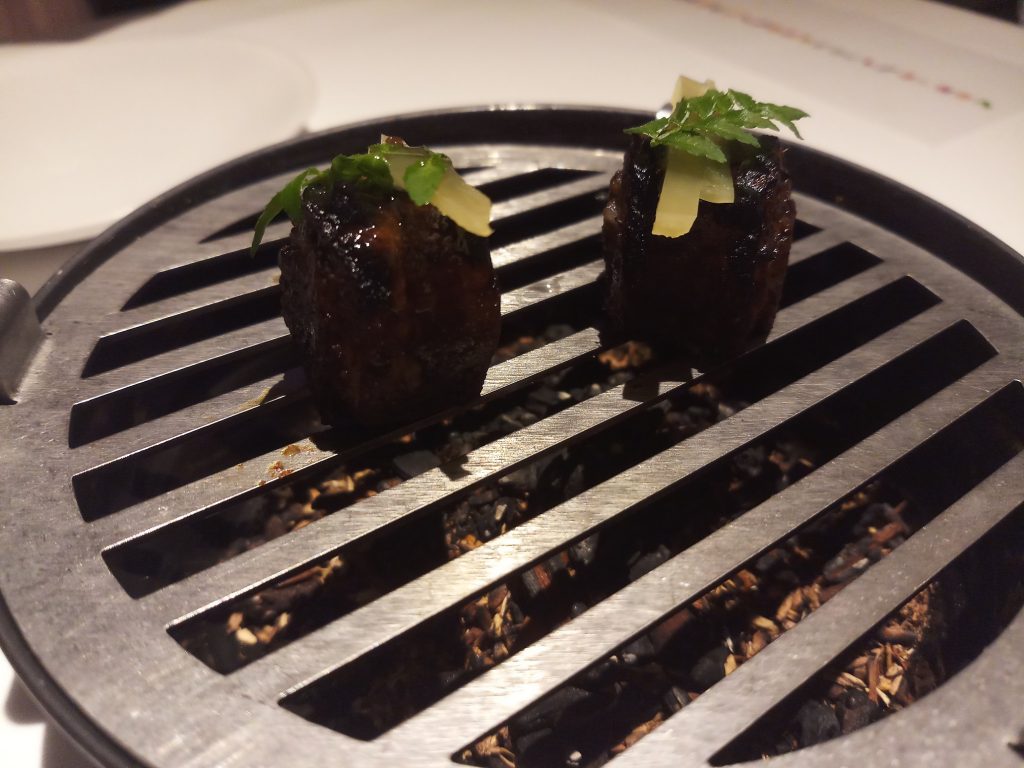 15. Kintoki Carrot Rasam 🥕
Very smooth, warm drink that bore a resemblance to blood. Mmm.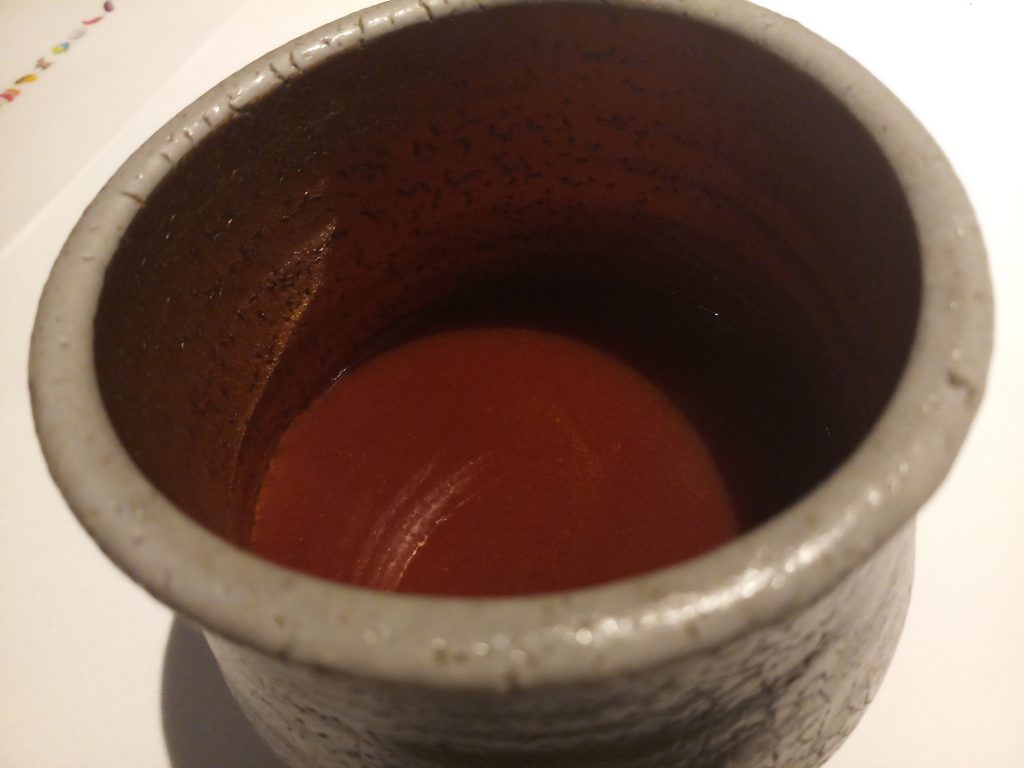 16. Pork Vandaloo Black Garlic Momo 🥟
With a lengthy, self-descriptive name, there's not much more to add here. Except that it tasted amazing. The bomb dot com.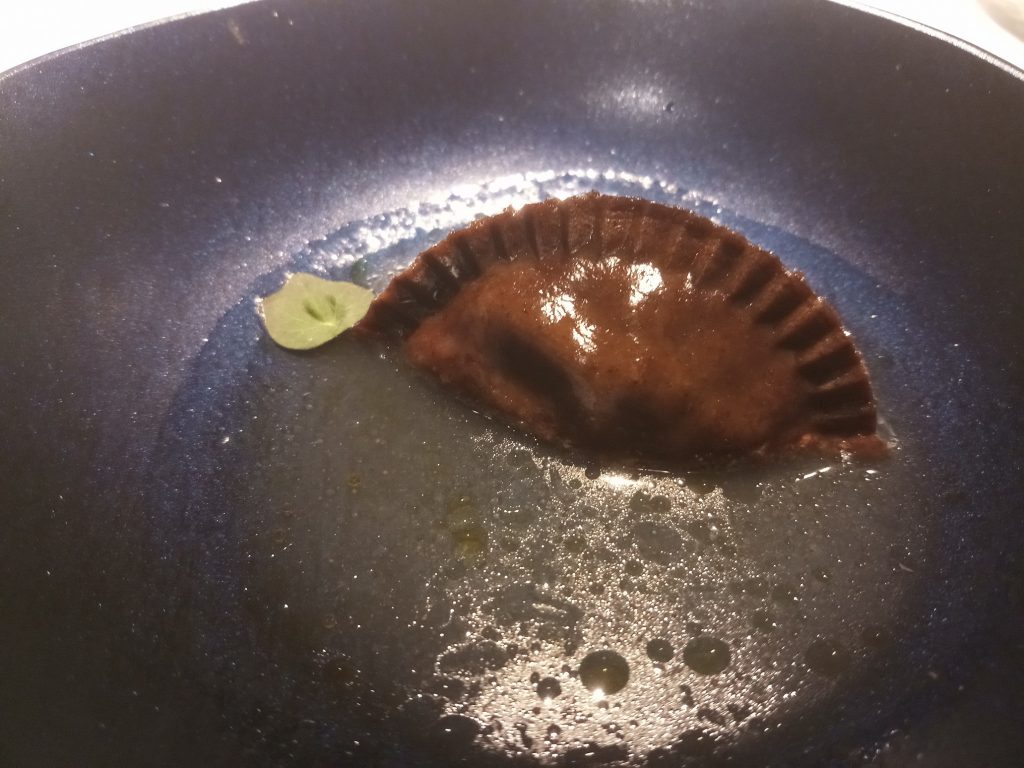 17. Scallop Uncoocked Raw Curry 🥥
Lovely dish with an interesting mix of textures. The "shell" was actually crafted from coconut and it gave a nice crunch to complement the softer raw scallop that it was paired with.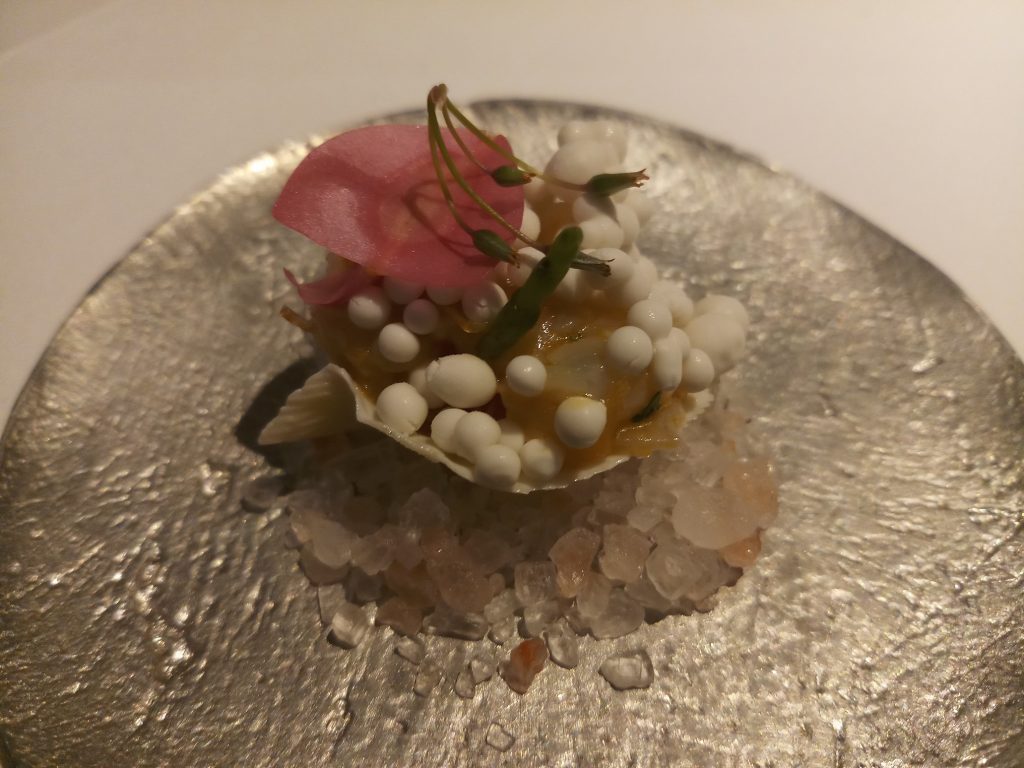 18. Prawn Balchao 🍤
Second shrimp (or prawn, I can never tell the difference) of the night but actually got to eat some of its meat this time, not just its crunchy, fried face.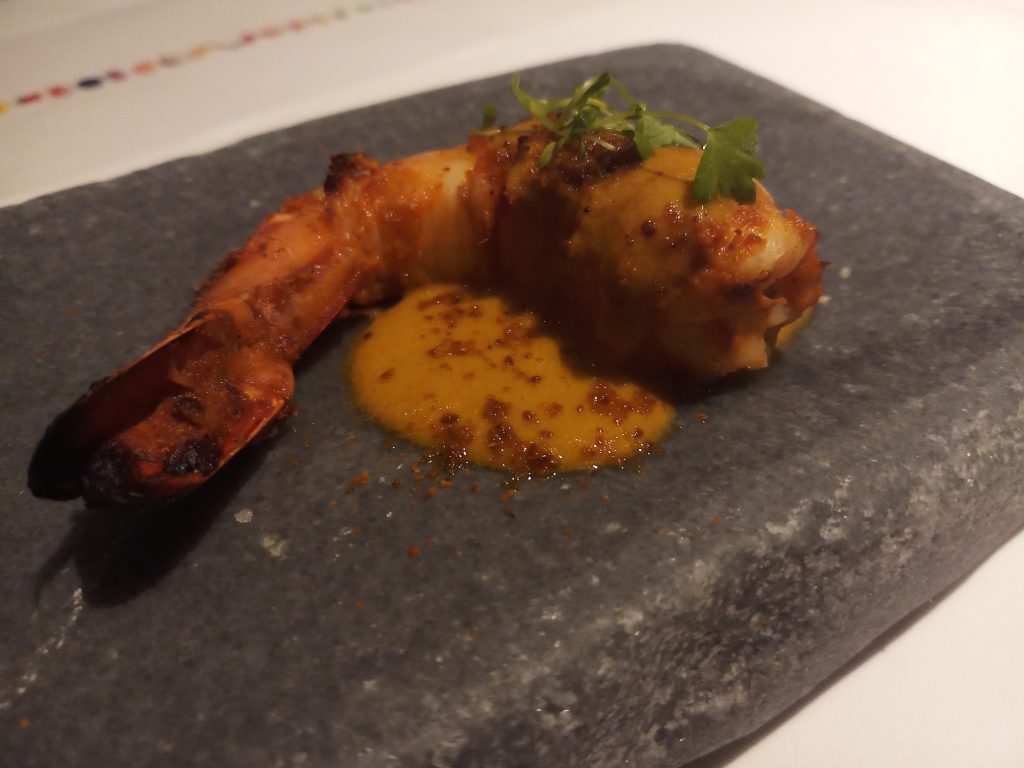 A great alternate version of the dish is provided to those with seafood allergies that's made with paneer instead of prawn.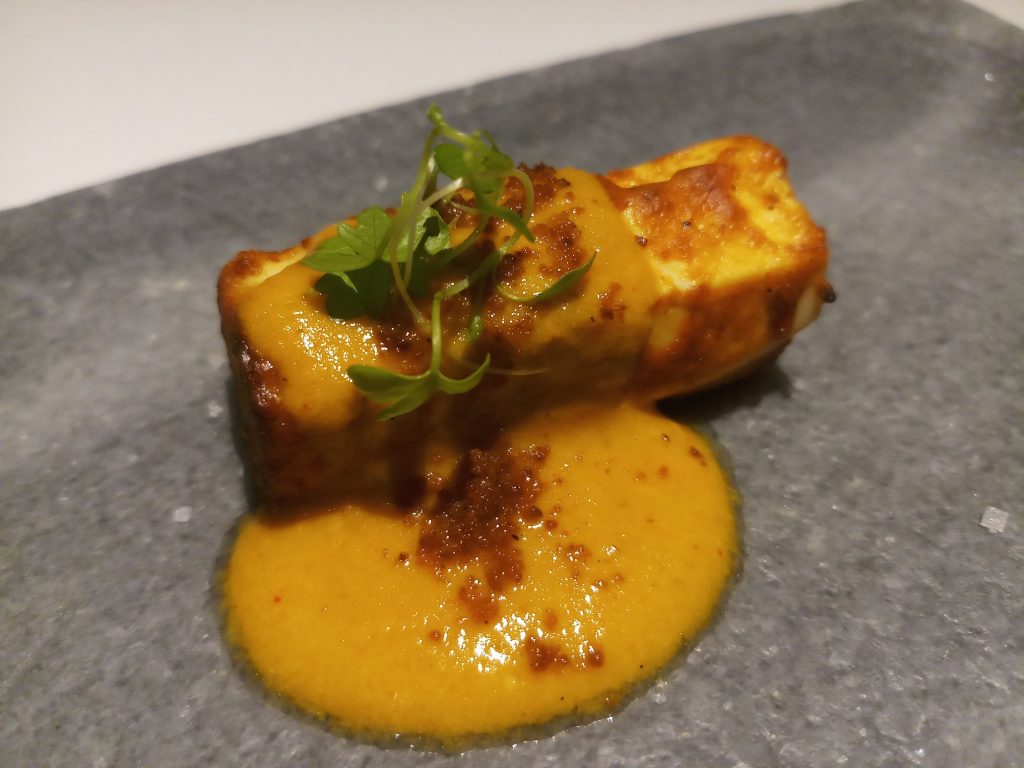 19. Return of the CTM 🇬🇧
Fish 'n' chips turned into a bite-sized sandwich. Simple. Scrumptious.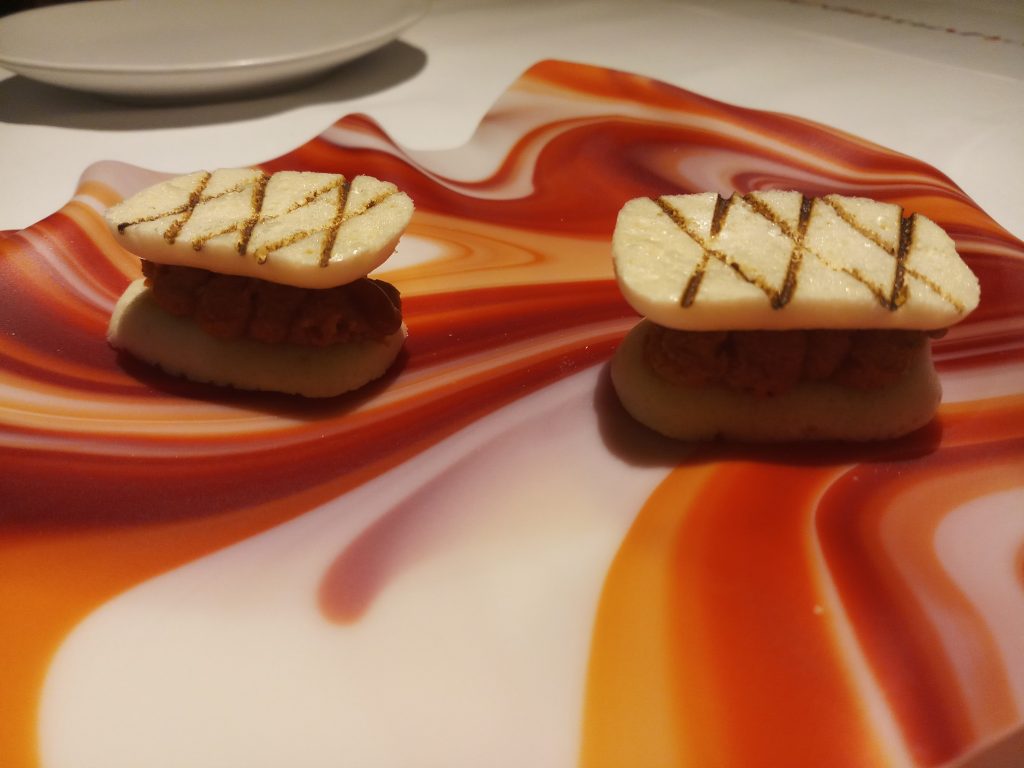 20. Edamame Shitake Charcoal 🌑
This one, I wasn't able to guess but I still enjoyed it immensely. There were clearly mushrooms and some green vegetable inside. When we were told it was edamame, it seemed pretty obvious after the fact. But, this whole meal was great at mixing flavors together to give them a unique taste when combined in different ways.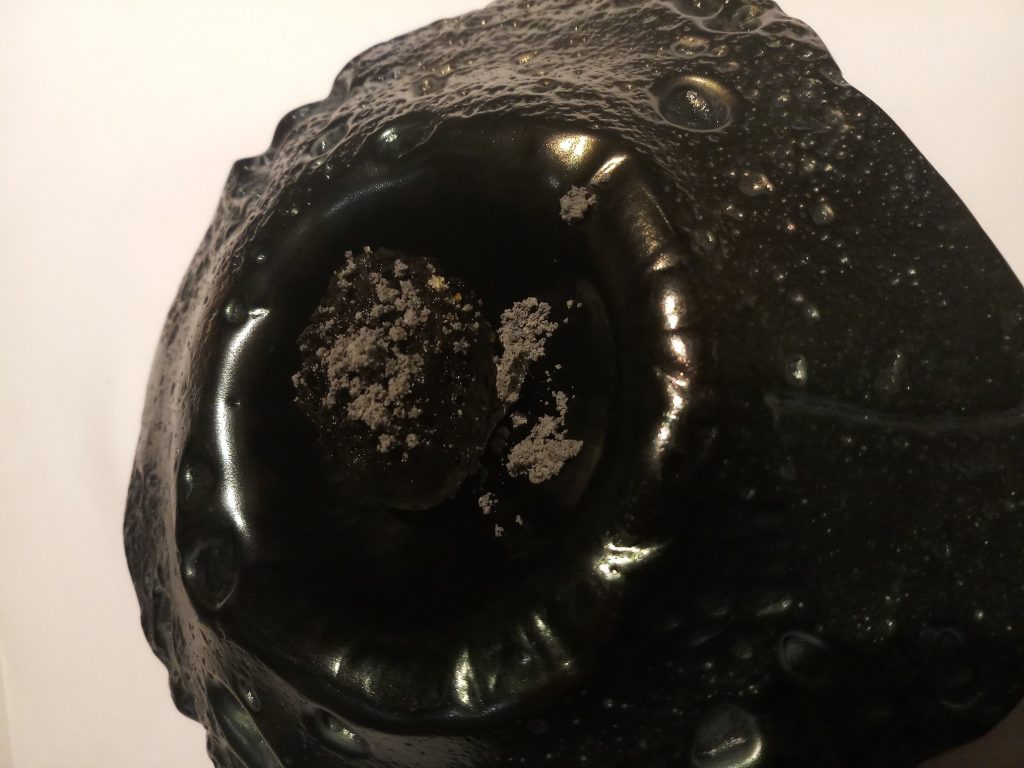 21. King Crab Curry Rice Paturi 🦀
Finally made it to the main course and it definitely had some substance to it. I felt myself getting full by this point for sure but I am a solider so I carried on through dessert.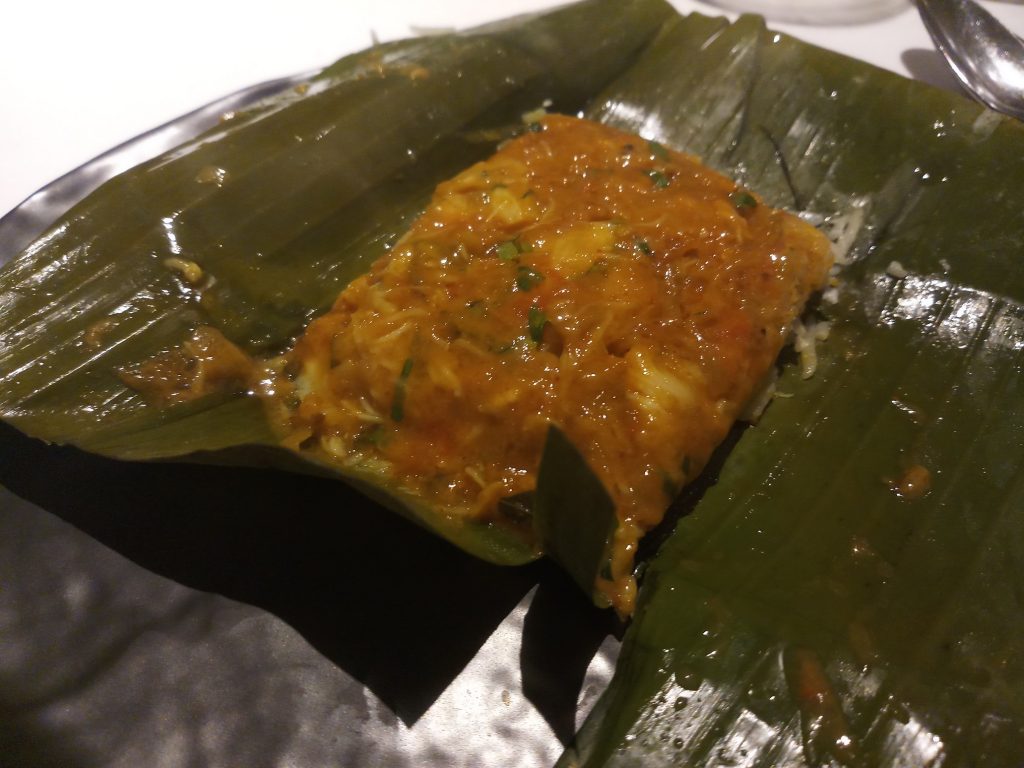 22. Beetroot Roses 🌹
Served under a glass (not pictured) in a very "Beauty and the Beast"-esque style. Elegant presentation and taste.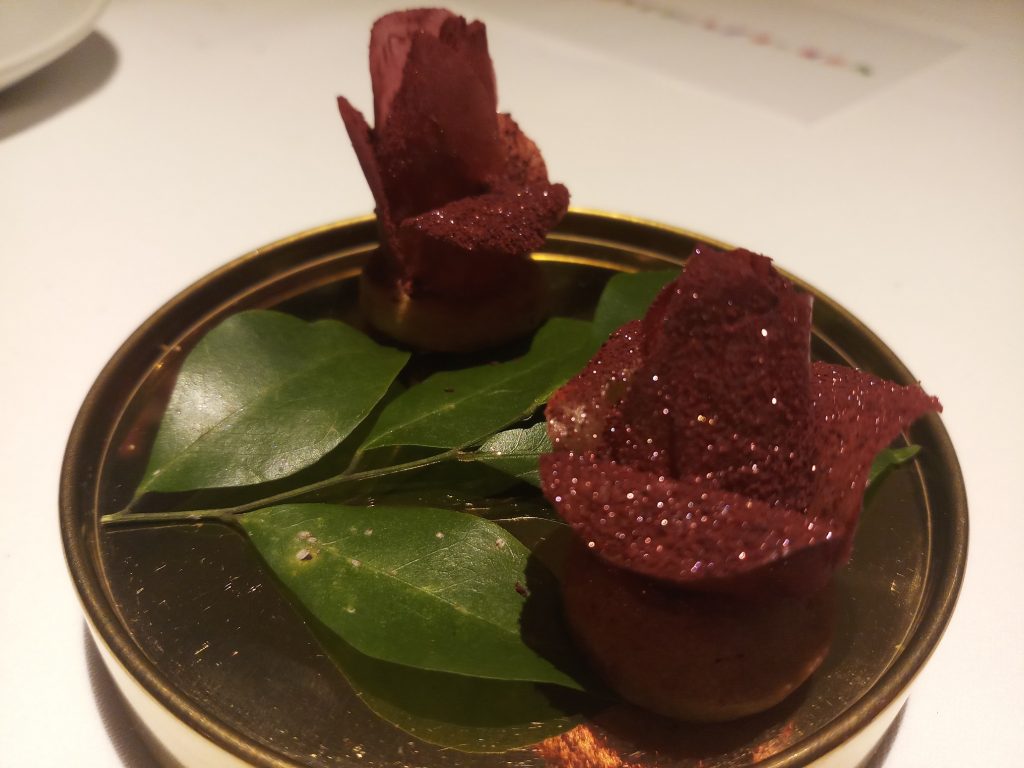 23. Flower Power Rose 🌼
More flowers, more happiness. 🌼🌼🌼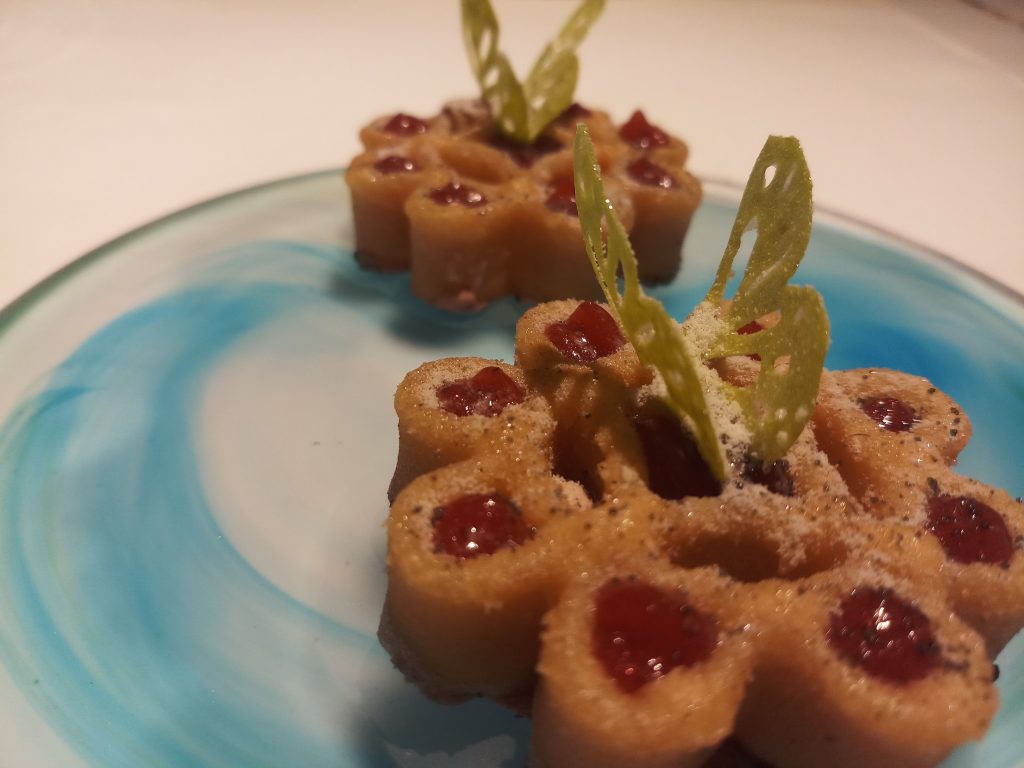 24. Oragami Caramel 🍬
Edible paper folded into fortune tellers reminiscent of middle school containing caramels of different varieties including sweet, salty, and sour.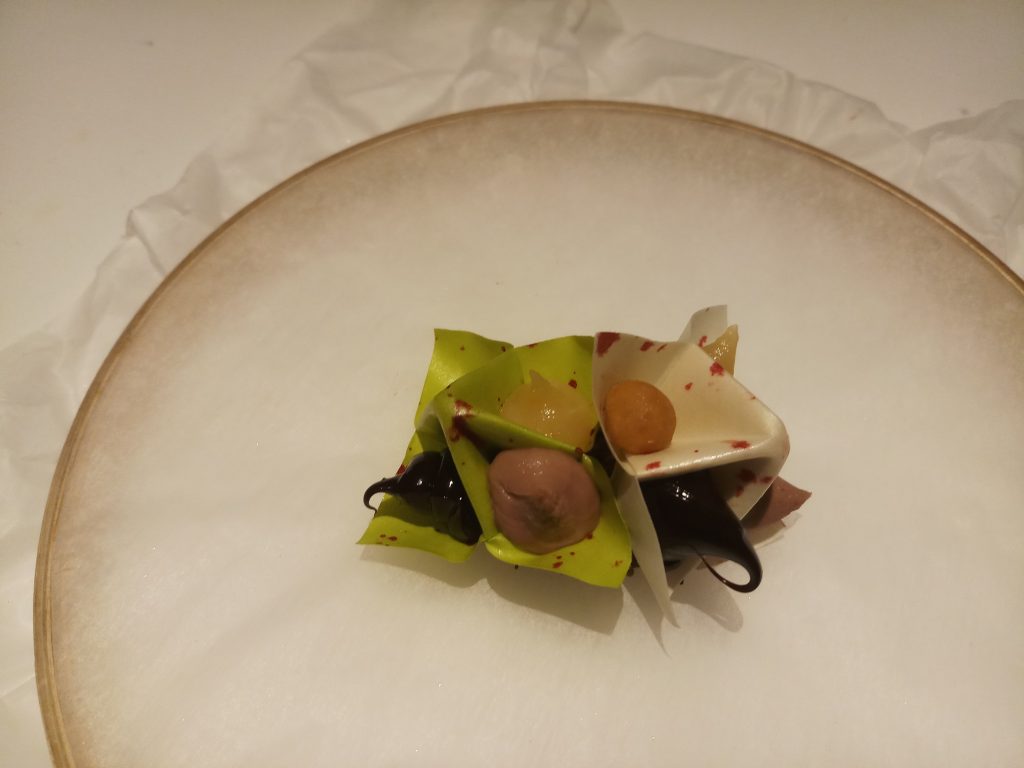 25. Yin Coffee Yang Sesame ☯️
What a beautiful dish to end on. Peace.