This weekend Thailand hosted its first ever PyCon: a conference dedicated to the Python programming language. This was a great opportunity to meet fellow developers in the region and learn more about topics like Deep Learning, Natural Language Processing, Graph Theory and more. I even contributed with a talk on Teaching and Learning with Python. Another fun part of the conference is the lightning talk session. Lightning talks are 5 minute talks that anyone can sign up for that happened at the end of each day in the main hall. It's a chance for people to dip into speaking at a conference or to test the water for new ideas or just to share something cool they've been working on. While I already have some experience in that arena, I have zero experience speaking in public in Thai. I decided to take the risk of trying my hand at it. I'd say around half or more of the audience understood Thai, but definitely a large part that did not so I made slides in English and Thai but made a goal of only speaking Thai during the presentation. There were a couple times when I couldn't think of the word I wanted to say in Thai and was tempted to just say it in English but didn't, I either found another way to express myself or just left the comment out. Below are the slides I created and used for the talk: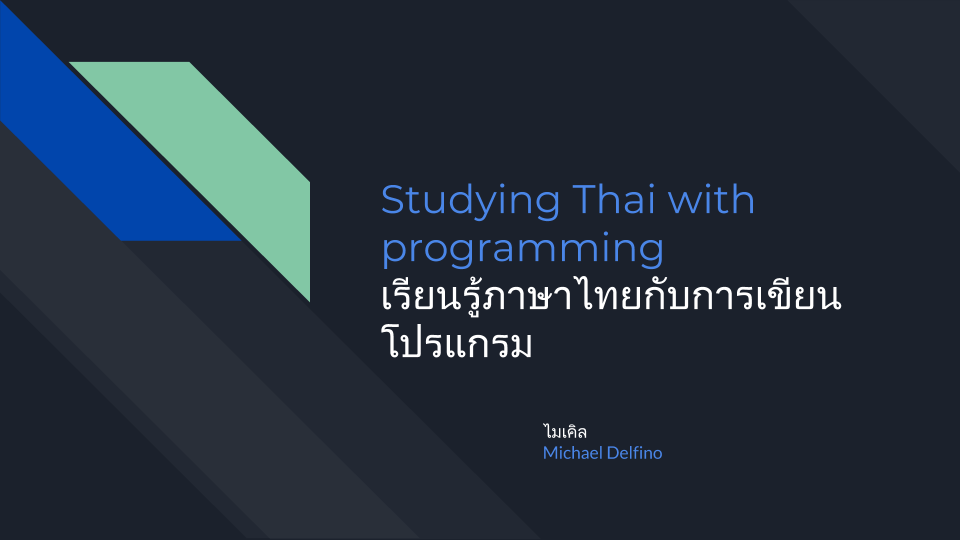 I already started realizing how hard translating this all would be by slide 1. For the first word should I use เรียน (riian – to study at the elementary level), เรียนรู้ (riian rúu – to undertake to study; learn; study), ศึกษา (sʉ̀k sǎa – to study; to be educated; to receive education; to go to school; to learn (at higher levels such as college)) or something else? And the connecting word, am I learning/studying with/by/through programming? What's the most Thai way to express it? And it seems I was so focused on getting the Thai correct that I forgot to capitalize the 'p' in Programming for my title in English.
When I actually gave the talk, I was thinking "should I explain what I'm doing in English, that I'm learning Thai and want to practice speaking or should I just start speaking in Thai, I'm sure it won't be very hard for them to figure out I'm just learning…" I jumped right in with an unsure "สวัสดีครับ… ทุกคน ยินดีต้อนรับ" (sà wát dii kráp… túk kon, yin dii dtɔ̂ɔn ráp – Hello… everyone. Welcome."
After the initial awkwardness, I felt a little more comfortable. Sure, I'm speaking a new language and I might mess up but there are slides to help people figure out what's going on even if I mispronounce something. I push my students who are English Language Learners to take risks and make an attempt. It's more about pushing yourself out of your comfort zone and learning and getting your point across than delivering a perfect speech.
"วันนี้ผมจะพูดเกี่ยวกับ…" (wan níi pǒm jà pûut gìao gàp – Today I will speak about…)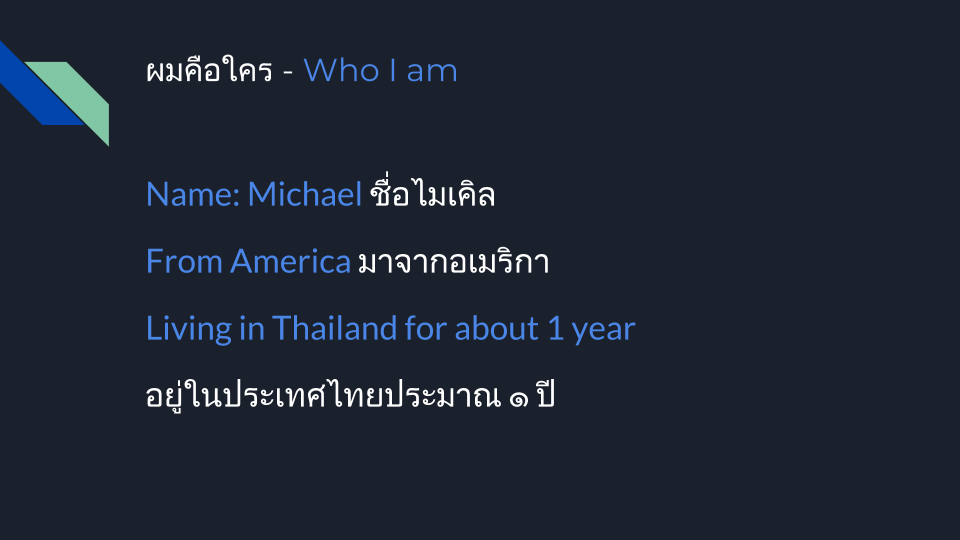 Now for introductions. Pretty standard for a presentation, but it did feel rather like day 1 in a language class.
ประมาณ (bprà maan – approximately) was a new word for me. I've heard it before but I've never actually used it in conversation. I think the experience of using it in a talk in front of a large audience will help it stick in my memory pretty well.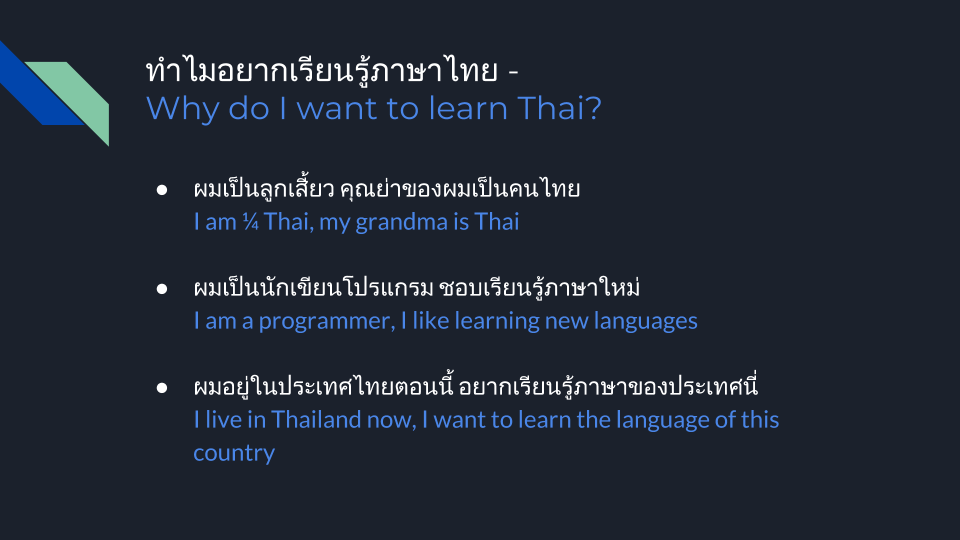 Got my first laugh here. There's a term for people who are half Thai, ลูกครึ่ง (lûuk krʉ̂ng – half child).
"ไม่ใช่ลูกครึ่ง เป็นลูกครึ่งครึ่ง" (mâi châi lûuk krʉ̂ng bpen lûuk krʉ̂ng krʉ̂ng) – "I'm not half Thai, I'm half half Thai"
The term for people like me who have 1 Thai grandparent and 3 non-Thai grandparents is "ลูกเสี้ยว" (lûuk sîao – crescent child) a reference to the crescent moon.
An interesting tidbit about the Thai language is that there are different words for maternal and paternal grandparents, so by using the word คุณย่า (kun yâa – paternal grandmother) instead of คุณยาย (kun yaai – maternal grandmother) it can be inferred that it's my dad's mom who is Thai, not my mom's mom without me needing to elaborate.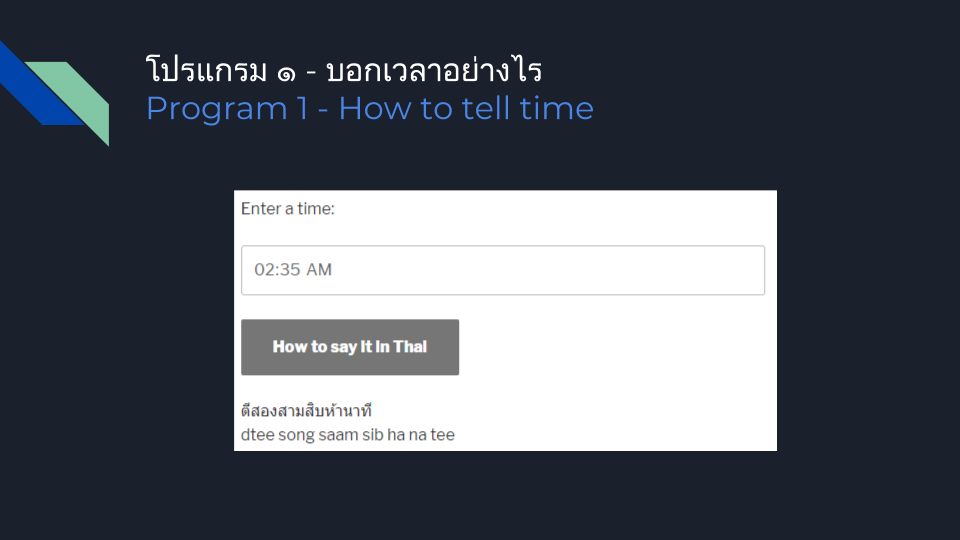 After introductions I showed a few of the programs I made to help me learn Thai and explained briefly what they did. The first one was my program to help tell the time. This came from one of my first posts on this blog, Telling Time in Thai.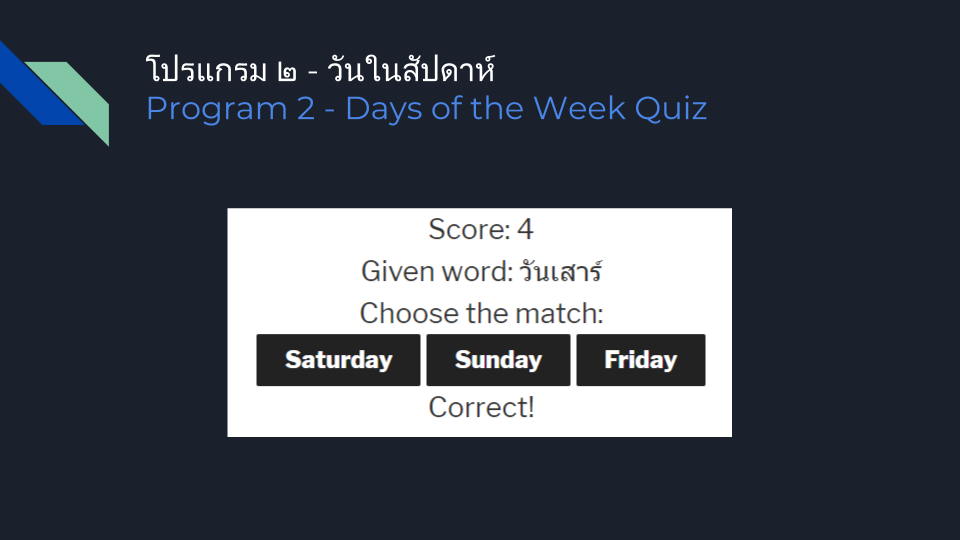 Second program, my Days of the Week quiz, also about something I made for the blog. I did say the English words "Saturday, Sunday, Friday" here because I was explaining that you have to select the correct English word in this example. Though my childlike enthusiasm when saying "ถูก!" (tùuk – correct, can also mean inexpensive) got me another laugh from the crowd.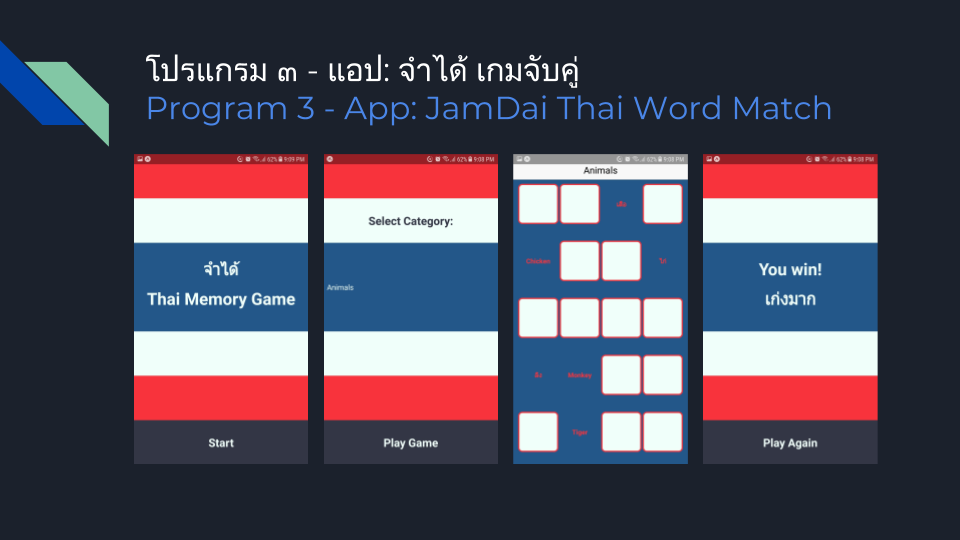 This is the only example I shared that isn't from the blog, JamDai, the Vocabulary Card Matching Game I made. Instead of ถูก, this one ends with a supportive เก่งมาก (gèng mâak – very good, clever, skillful, superbly performed).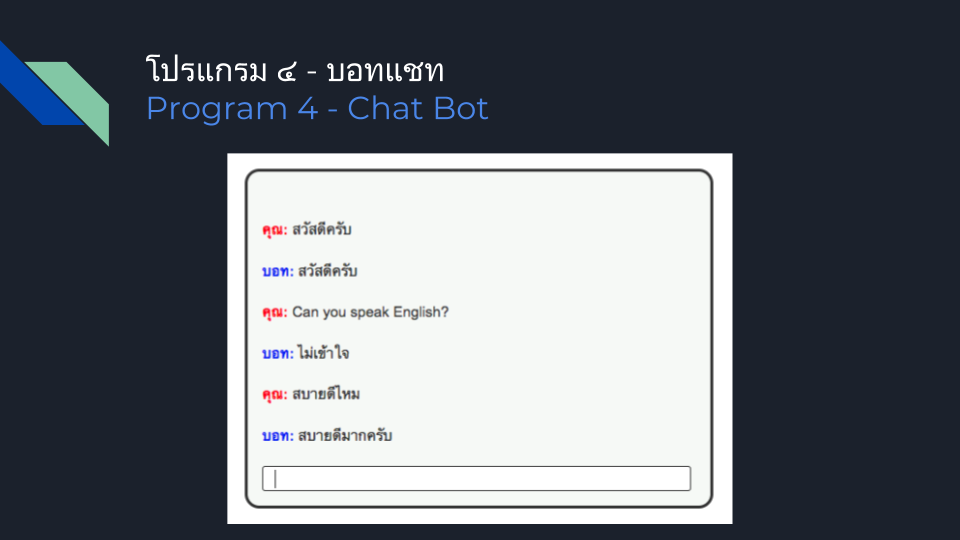 The final example I shared was the Thai Chat Bot I made recently. Got a couple more laughs here excitedly reading the chat between myself and the bot and explaining that the bot is male since he uses the polite term "ครับ" (kráp) instead of "ค่ะ" (kâ).
Though, if I end up adding text-to-speech that may change since all the existing Thai text-to-speech tools I can find only have a female voice. I have noticed that general service messages, or posted announcements tend to be either gender neutral or use female terms. Another interesting difference between Thai and English is that there's no difference between she and he, it's the same word (เขา – kǎo) so no need to worry about misgendering someone because you don't need to refer to people by their gender. Though you do gender yourself by the self-referential pronouns you use, ผม (pǒm – I (male)) and ฉัน (chǎn – I (female)). There are instances when speakers will use the opposite gender terms such as a male using female terms with close family members or intimate partners to show softness/gentleness (it's common for male singers to use ฉัน in love songs for example) or women might use male terms to show harshness or to be stern. Reveals some of the cultural connotations surrounding gender.
I'm very glad I took this risk even though it was scary, I'm happy with how it went. I hope to continue growing and using my Thai language skills. It would be great to be able to speak directly to the parents of my students who speak Thai instead of relying on a translator (though, the Thai staff that helps us with that are awesome!) And of course, the most rewarding way in which I use this skill is getting to connect more with my family members on this side of the globe. Even though initially, I barely knew any Thai, they've been so kind, welcoming and warm to me.
I have to give a special shout-out to my wonderful girlfriend, Mild, who took a look over my slides for me and offered suggestions to improve them. In general, she's been a huge factor in helping me learn and pushed me take chances like this.